As the digital landscape continues to evolve, Evokey is one of the best IT companies in Jordan that is increasingly turning to search engine optimization SEO in Jordan and app store optimization ASO in Jordan to help you reach your target audiences. SEO and ASO are two of the most important strategies for any business looking to increase visibility online and maximize its return on investment.
ASO (App Store Optimization) and SEO (Search Engine Optimization) are two separate but interconnected digital marketing tactics. While they share some similarities, they focus on optimizing different platforms and utilizing distinct techniques.
What is ASO (App Store SEO)?
Mobile app optimization (ASO) enhances visibility and ranking within an app store's search results. The goal of ASO is to increase the visibility and discoverability of an app, which can lead to more downloads and revenue. Boost your app's visibility with our advanced techniques for App Store Optimization. We'll optimize titles, descriptions, and metadata and improve user retention and ratings! 
Conversely, SEO is optimizing a website to rank higher in search engine results pages (SERPs). The goal of SEO is to increase the visibility and traffic to a website, which can lead to more conversions and revenue. SEO techniques involve optimizing various website elements such as content, meta tags, and on-page features, creating quality backlinks, and enhancing user experience.
What are the Similarities Between SEO and ASO?
While ASO and SEO share some similarities in terms of optimizing for search algorithms, they differ in words of the specific strategies and techniques used. Additionally, ASO is focused on optimizing for app stores, while SEO is focused on optimizing for search engines like Google.
Helping people find and use your website or app is the main objective of both SEO & ASO. Both strategies concentrate on increasing inbound traffic to your website's marketing pages, whether it comes from Google Search to a particular homepage or from a Google Play store/Apple App Store/ Huawei AppGallery search query to a particular app store listing.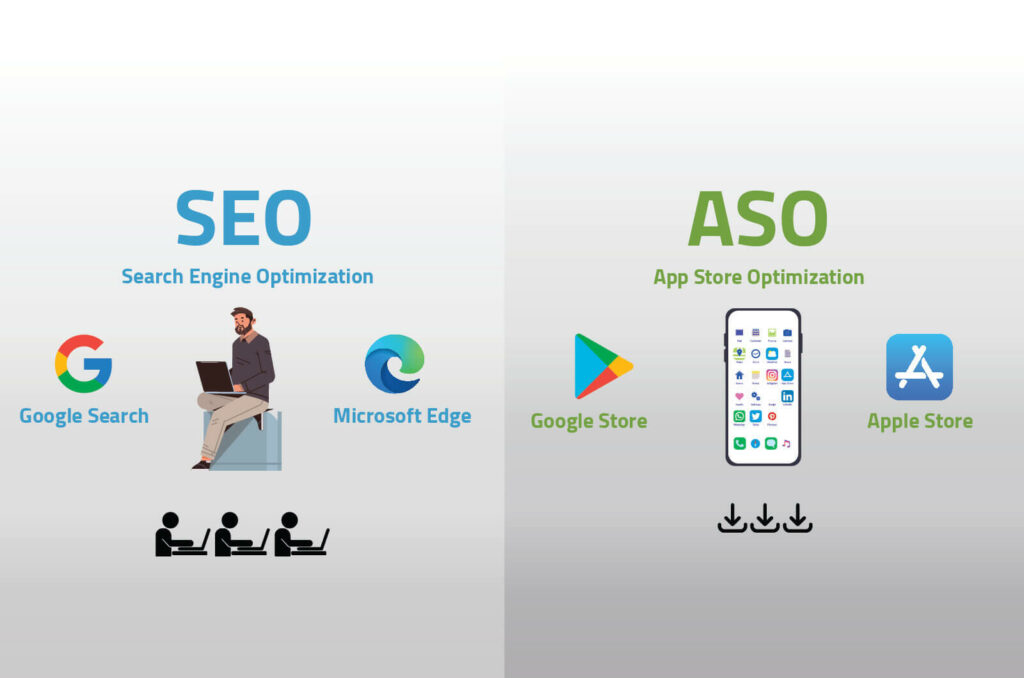 How is ASO (App Store SEO) Different From SEO?
While both ASO and SEO share the goal of driving more traffic to a website or mobile application, there are some key differences between the two. Here are a few:
ASO is particularly focused on apps, while SEO is dedicated to websites or any system on google.

ASO Focuses on specific factors Like (the name of the app, subheading, and images..), but SEO focuses on (website content and backlinks, Domain Authority, and Keywords).

Platform-specific improvement: ASO on(Huawei AppGallery, Google play, and App store), while SEO on (Google, Yahoo, and Bing).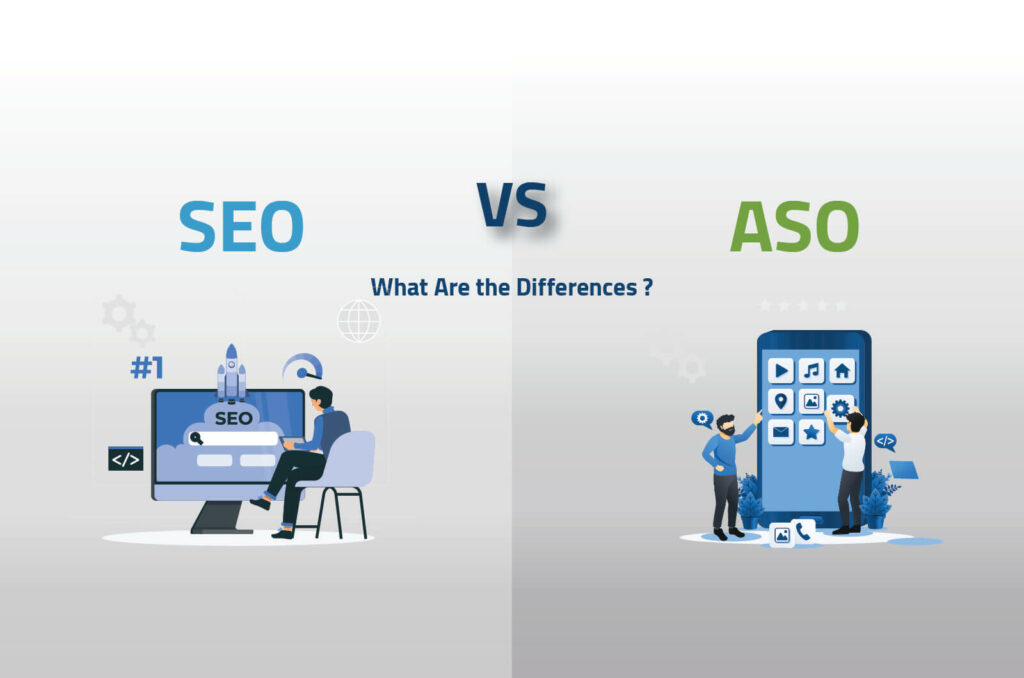 ASO focuses on increasing visibility and download rates for apps in e-stores such as Apple App Store, Google Play, and Huawei AppGallery, however, SEO is all about rising web content, so it becomes available at the top of search results in all major search engines.
ASO and SEO in Jordan are growing in importance as the number of consumers below increases by using phone apps, Evokey is an IT company in Jordan that offers the best ASO and SEO services. We have a team of experienced professionals who are knowledgeable in both these areas and help clients improve their online visibility. By using our expertise, we help clients gain more organic traffic to their websites, increase web page rankings, and enhance brand awareness. Contact us today for more information.